Move fast and break things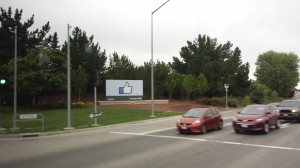 It's been an exhilarating week jam-packed with excitement and lots of moments of complete awesomeness! I can't fully describe what an amazing experience this first week at Facebook as an intern has been but I'll try my best. By the time I landed in San Francisco, I had been awake for about 24 hours and travelling throughout so I was very tired. After grabbing my bags, I hopped on the first available cab and set out for Mountain View. I noticed how open and different everything was from what I had been seeing for the past few months – bigger roads, people driving on the right side, mountains in the horizon… I started chatting with the cab driver, and it didn't take me long to figure out that public transportation is going to be a huge bummer. Especially after being spoiled by the convenience of getting around in London. But I was ready to adjust accordingly.
Day 0: All the drowsiness in the world disappeared as I checked in to my apartment provided by Facebook! I can't believe how nice the facility is! A 2-story fully furnished apartment with 2 snazzy bedrooms, each with a queen bed and personal tv. A laundry machine, bi-weekly maid service, swimming pool and jacuzzi in the community; what more could I ask for? Taking advantage of the excitement and my obsessiveness, I proceeded to neatly unpack everything into place instead of falling flat on my face into the bed.
Day 1: I woke up at 6:00 AM completely fully refreshed. I spent the morning figuring out food, getting some hiring paperwork done with Facebook and attending email. As my roommate wasn't here yet, I made plans with my friends at Rice to spend the evening in San Francisco. I met up with Nathan for lunch, my roommate from Rice who lives in Palo Alto and interns at Palantir. We are working on a project together so we made some progress on that before heading to San Francisco. There I caught the 2nd last day of Museum of Modern Art before it closes for 3-4 years. I really enjoyed looking at some of the more abstract works of art over there. There, we met with Sal, future quadmate who interns at Square, and David who's interning at Zynga. We met up with more Rice people and went to La Fusion, a contemporary Latino place.
Day 3: So the big day was finally here. I woke up early in the morning and got ready for my first day at Facebook. There is a network of intern shuttles that operate to drop you off to work in the morning and bring you back home in the evening. The shuttle happens to stop literally outside my door so I practically have a 20 minute door to door commute. About 20 people from my apartment community gathered up to board the shuttle. It's nice to know there are many other interns in the community so we can hangout after work. When I saw the giant like sign with Facebook written next to it on a street called Hacker Way, I knew we were here. To summarize, the entire orientation was really well done and full of excitement. We got all the important information we needed to have a successful internship and references to more resources. I immediately felt comfortable to be myself and express my thoughts freely. Sam Lessin, the Director of Product gave a really inspiring talk of how societies used to function without technology and the role Facebook plays today in the world. Random aside: Miley Cyrus came to Facebook to have lunch that day, she was the 3rd celebrity to visit Facebook in the past week.
Day 4: I met my manager early in the morning and made introductions with my teammates. I work on the Payments Platform team which takes care of all payments made on Facebook such as ads, farm cash, Spotify subscriptions, etc. I spent the entire day attending engineering onboarding sessions and acclimating myself with functional flows of payments. I'm working in the same building as Mark Zuckerburg is awesome and the openness of the entire floor feels great for collaboration. The FB micro-kitchens are completely decked out with snacks and caffeine to keep you going throughout the day. Room names are really entertaining and often have a cultural context: e.g. a room called Travelling Salesman on my floor, and a room called XOXO Gossip Girl in the NY office. There are two cafes and a sushi, pizza, burger, and BBQ place on campus that serve free food.
Day 5: I don't want to gain the Facebook 15 from the awesome food so I started going to the on campus gym in the morning before starting work. I already had two tasks at hand and begin touching the Facebook codebase. By the end of the day I had already implemented something that makes the Payment Operations team's life easier.
Day 7: My manager outlined my first real project that has a huge potential impact, gave me another mini task to do, addressed all of my concerns and questions, and outlined expectations for the rest of my internship. I concluded the week by attending Mark's weekly Q&A where employees have a chance to ask questions about anything they'd like and get completely candid answers. Having this kind of access to your CEO and an environment that lets you freely express your thoughts and concerns without repurcussions means that everyone is able to play a role in steering the company and continuing innovation.
I'm loving the structure in my life spending weekend having fun and catching up with friends, and spending weekdays being productive and doing awesome things. Looking forward to the rest of my summer over here!
Trackback from your site.