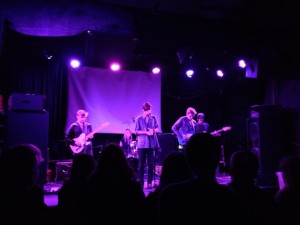 I've never immersed myself in a culture as deeply as I have in the past few days. It's amazing how much you can learn about the history, tradition, and culture of a place simply by looking around and observing subtle details. You can gain a whole lot more by reading local literature which takes the places around you and gives them a rich and complex past with a set of characters you can relate to. This pretty much describes my past few days travelling through Ireland with my buddy Tim. His interest in visiting local book shops and picking up books written by the local authors piqued my curiosity and I decided to grab a few myself. The experience of reading books that are set in the place you are travelling is really amazing, you can imagine the details in the book far more vividly and find it far more interesting.
This week has presented a lot of new experiences to me thanks to my travelling companion, a positive attitude, and opportunity found through spontaneity. I kicked off the weekend by visiting a pub in Kentish Town, London to hear some live music. I had a really pleasant experience listening to a variety including blues and rock music. Out of the three bands who played, I enjoyed a local band named Colored Clouds the most. In the following days, I caught some live music in Ireland two more times and I enjoyed the contrast and difference in style of Irish music. The key element that makes live music so pleasant and enjoyable is the fact that the band is standing right in front of you! The setting is far more intimate and personable compared to large concerts or simply listening to recorded music.
Another new experience for me is staying at a hostel. Being accustomed to room service, valet parking and other amenities found in hotels, I was quite nervous to live in a shared accommodation with bare necessities and just a small book bag to carry all of my belongings. However, my experience of staying at Lagan Backpackers in Belfast turned out to be quite a pleasant surprise! The staff was super friendly and pretty much everyone in the hostel was in the same age group as mine. We briefly went out with two Australians we met at the hostel and it was great getting to know them better. The atmosphere within the hostel was far more candid, casual, and most importantly, fun! People sat together in a common room and read books, watched movies and chatted with one another. I could never imagine having such an experience in a hotel and all the amenities couldn't make up for it because that's not important to me right now.
Today I'm having a pleasant time in Dublin and see quite a difference in the two capitals. Belfast is a much smaller city that reveals more history and a past of struggles, whereas Dublin is more developed, lively, and caters more towards tourists.
With no lectures this week, I'm thoroughly enjoying myself and having a fantastic time travelling around! This Thursday morning, I get back in London and I'll be leaving to Germany later in the evening to visit an old high school friend. I'm really excited and looking forward to the rest of my week!
Trackback from your site.