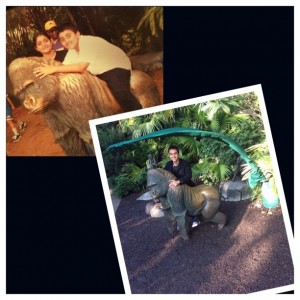 It's January 1, 2013 and I already stumbled a couple of times while writing the date. I feel as if I'm in denial right now about the fact that 2012 is gone. I've had a flash of nostalgic and thought provoking memories. For example, I remember my elementary school teacher mentioning how we were lucky to be experiencing the beginning of a new millenium. Recently, I visited Busch Gardens in Tampa, FL and took a picture at the same spot where I had one taken over a decade ago. I could almost say that the person in the older picture is from another life. Yet, a part of me feels as if that only happened yesterday. It serves as a reminder to me how fleeting time is in this world. Yet if you make good use of time, it feels as if you've come so far on a long adventurous journey.
Today, I find myself reflecting upon what I want out of 2013 and I've come to realize that this year will be my last complete year as a student and a chance for me to make the most impact on the trajectory of my life after I graduate. This is my chance to realize my strengths so I can align myself to take leverage of them. It's my chance to improve my lifestyle and form new good habits that I can carry into my bachelor life after college.
I want to focus on only two things this year because I want to be realistic about my goals and actually achieve them instead of spreading myself thin.
1. Become much more energetic and productive as I lead a healthier lifestyle: I could imagine a lot of people rolling their eyes as they read this and I can almost hear the reaction both my sisters would have to see this one the top. But to put things in perspective, I gained 10 pounds despite exercising regularly for at least 2/3 of this semester. There were times during the semester when I seriously questioned what I was doing with my life going on without sleep for more than 40 hours or going through slow torture sleeping 2-3 hours a day for almost a week. Sometimes I would wake up at 6:00 AM and some times I would wake up at 6:00 PM. My mind lost all sense of a circadian rhythm and I often ate 1 meal a day which contributed to the weight gain. All the career milestones and achievements could not make up for the damage incurred to my health with this lifestyle. This kind of lifestyle has a downward spiraling effect on my productivity so had I been more proactive and prudent, I could have done everything I did this semester without taking this toll. By highlighting only the toughest moments of my semester I have blown things out of context a bit. But I do remember 3 years ago I used to be so efficient that I managed to lose 50 pounds as I transformed my body while at the same time working 32 hours a week and being enrolled as a full-time student at Broward College. I would tackle each day with a relentless drive and felt so energetic! This year I will work my way back towards that lifestyle.
2. Create new software from scratch with a team of people at Rice: At this point I have enough knowledge and experience to work on my own software and I have the chance to be part of a sandboxed startup. Eric Ries defines a startup as 'an organization dedicated to creating something new under conditions of extreme uncertainty.' I call it a sandboxed startup because it's easier for me rally up my fellow colleagues on an idea or project because they have gotten to know me through common classes, friendship, and trust. It's also sandboxed because no one would be giving up something significant (e.g. dropping out of school or quitting a full-time job) to be a part of it so it's a lower risk. I have been writing down ideas for a while now. I have nailed down a few worth pursuing after letting them brew in my mind and discussing them with other people. My goal is to create and publish a piece of software that solves a problem (regardless of how insignificant) with a team of passionate individuals.
Trackback from your site.