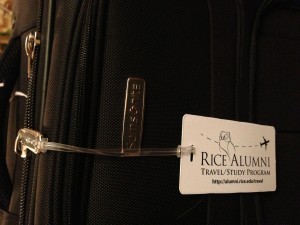 As I wait in the boarding lounge in Miami International Airport, I watch the airplanes fly away into the sky behind the clouds. One plane lands as another takes off and this goes on at an impressive speed. It's an amazing feat of mankind! The comforts and amenities we are able to enjoy sitting tons of metal flying 10x faster than we drive. As soon as the airplane navigates and parks next to the terminal, multiple teams immediately get to work around the plane. Cabin supplies and food is being restocked while used up containers are taken out. The airplane is being refueled and I see the pilot come out and inspect the front landing tire. I wonder what's up with that. Several bins of USPS mail are carouseled out of the airplane and checked in bags are transported to the airport as the passengers from the flight come in through the terminal. The entire plane is being serviced and prepared for the next flight within 30 minutes. It goes to show how well organized airports and airlines are to ensure on-time flights and smooth operation.
I'm travelling yet again. This time back to London after spending quality time with my family in attendance of my sister's graduation from Florida International University. This is the first time I've attended a graduation and I'm really happy and excited for my sister! I'm really glad I made the time and effort to come and visit my sister in celebration of this great milestone in her life. I also look forward to my own commencement next year as I slowly experience the transformation from student life to professional life!
I'll be in London one last time to take 4 final exams. Native UCL students have been extremely stressed and studying relentlessly for their exams as they have 8 instead of 4. UCL conducts examinations for the entire academic year in May instead of breaking them up into each semester. I'm not too worried myself as the material is all fresh in my mind and I just need to revise.
With fewer than 4 weeks till I permanently return to America to begin my internship at Facebook, I'm really excited and can't wait for the summer to begin! I've been recently matched to the Payments Platform team within Facebook which seems to fit my interests in relevance to the technologies and kind of work I am most interested in. I got in touch and spoke with my manager at Facebook and we're off to a great start as we discussed my interests and what we hope to achieve from this internship.
With my time in London fleeting, I hope to absorb the city and the culture as much as possible! I also hope to spend some quality time with all the friends I made during my time in London!
Trackback from your site.