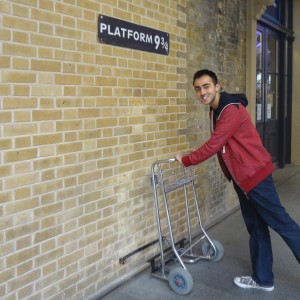 If I weren't so excited to come to California and start my internship, I'd be quite depressed right now as I'll really miss London. I'm sitting in the giant Terminal 3 lounge of Heathrow Airport and I remember sitting at the same spot 6 years ago on a connecting flight. 6 years ago… That just shocks me. Connecting the dots backwards, that flight 6 years ago was a pivot in my life. What was supposed to be a casual summer trip to America to visit my older siblings convinced me that I should move there. Its ridiculous how fast time passed and the things that have happened since then. I remember being so mesmerized by London. Rather, the idea of London as I didn't know much about the city back then. But it was just very fascinating to see people around me and wonder what they were up to and how life was like for them. I don't think I ever saw myself walking out the airport back then.
Yet here I am today leaving after having lived 5 months in the great city of London. I came here to get a global perspective of the world and see what its like to be in a melting pot of international cultures. Every part of my study abroad journey here was meant to complement the experience I had in America. Instead of living on-campus, I decided to live off-campus and cook for myself. Instead of having an ambitious course load and a plethora of side projects, I would travel to different places, meet people, and try new things. Instead of being in a small research university, I would be a part of a much larger and older institution. I think the scariest part of going abroad was thinking that I didn't know anyone where I was going. Yet, that was the most exciting prospect as well!
In the past 5 months I've had some of the best time of my life. I couldn't have expected more out of my experience and I did everything that I wanted to do. By being away in a place totally foreign to me, I learned more about myself through self reflection. I learned what British culture and life is like. But most importantly, I met great people along the way! I will cherish the memories together and keep in touch with my new mates. Who knows where we might meet next!
Now, my summer has officially begun as I'll be moving into my new apartment in Mountain View, CA tonight. I am really excited to start my internship at Facebook this Monday!
P.S. A shout out to my buddy Marco!!
Trackback from your site.